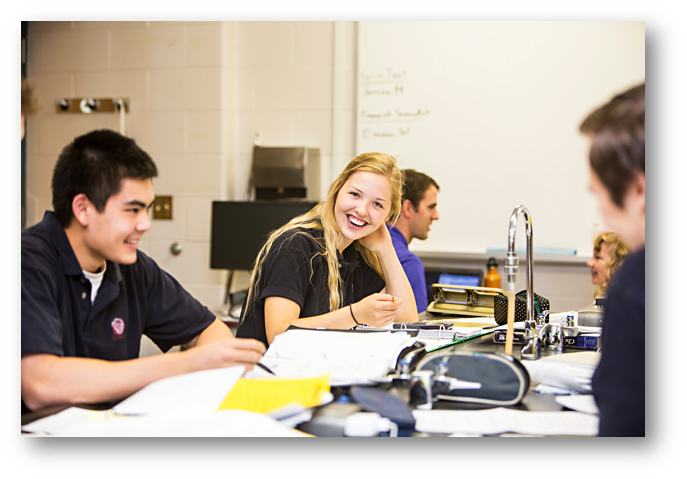 The Huron-Perth Catholic District School Board offers an enriched spectrum of learning in our Catholic Secondary Schools.  We proudly serve our students by providing a comprehensive, Christ-centred education with a broad range of courses and learning pathways.
St. Michael Catholic Secondary School, Stratford (serving Perth County) and St. Anne's Catholic Secondary School, Clinton (serving Huron County) offer a full selection of academic courses and a diverse catalogue of co-curricular activities.  We invite you to view the course calendars of programming on each school website,
We have a strong tradition of academic excellence and exemplary achievement in many co-instructional activities.  We are proud of the success of our students in music, arts, drama and athletics.  Our schools host a variety of clubs and teams to support a commitment to inclusion and wellness.  Most importantly, our schools model an open commitment to social justice and rooted in our Catholic faith and traditions.  Our goal is to help all students achieve their potential and who God is calling them to become in a life of Catholic service.  We are committed to nurturing excellence and the achievement of the Ontario Catholic Graduate Expectations.

For information on our programs, please see our document Entering Secondary School .   The guide offers details on course selections, registration and information on the various pathways available to students as they make their way through secondary school and plan for the future.Please visit the links below to view our specialized programs:
For more comprehensive information about the various opportunities that our schools provide, please see the following:

Technology Courses EXPLORING TECHNOLOGIES - Grade 9, Open (TIJ1O) This course enables students to further explore and develop technological knowledge and skills introduced in the elementary science and technology program. Students will be given the...
For more comprehensive information about the various opportunities that our schools provide, ​please see the following: