Positive Mental Health and Academic Achievement
Positive mental health is foundational to academic achievement, life skills, and overall well-being.
Positive Mental Health
Positive mental health is the capacity of each of us to feel, think and act in ways that enhance our ability to enjoy life and deal with the challenges we face. It is a positive sense of emotional and spiritual well-being that respects the importance of culture, equity, social justice, interconnections and personal dignity (Public Health Agency of Canada, 2006).
It's helpful to think about mental health on a continuum. We are always striving for optimal mental health and well-being.
Mental Illness
Not everyone has a mental illness. Mental illness, like mental health, can fluctuate. On one end of the continuum is no diagnosable mental illness (minimal or no symptoms). On the other end is severe mental illness.

As shown in the image on the right, when the mental health and mental illness continuums are put together, they create a "dual continuum" (School Mental Health Ontario).
Severe mental illness may have a negative impact on a student's well-being and interfere with functioning at school, home, in the community and in social settings. Development, school attendance, academic achievement and relationships with family and friends may also be affected (School Mental Health Ontario). 
This video shown below from CAMH explains how mental health works.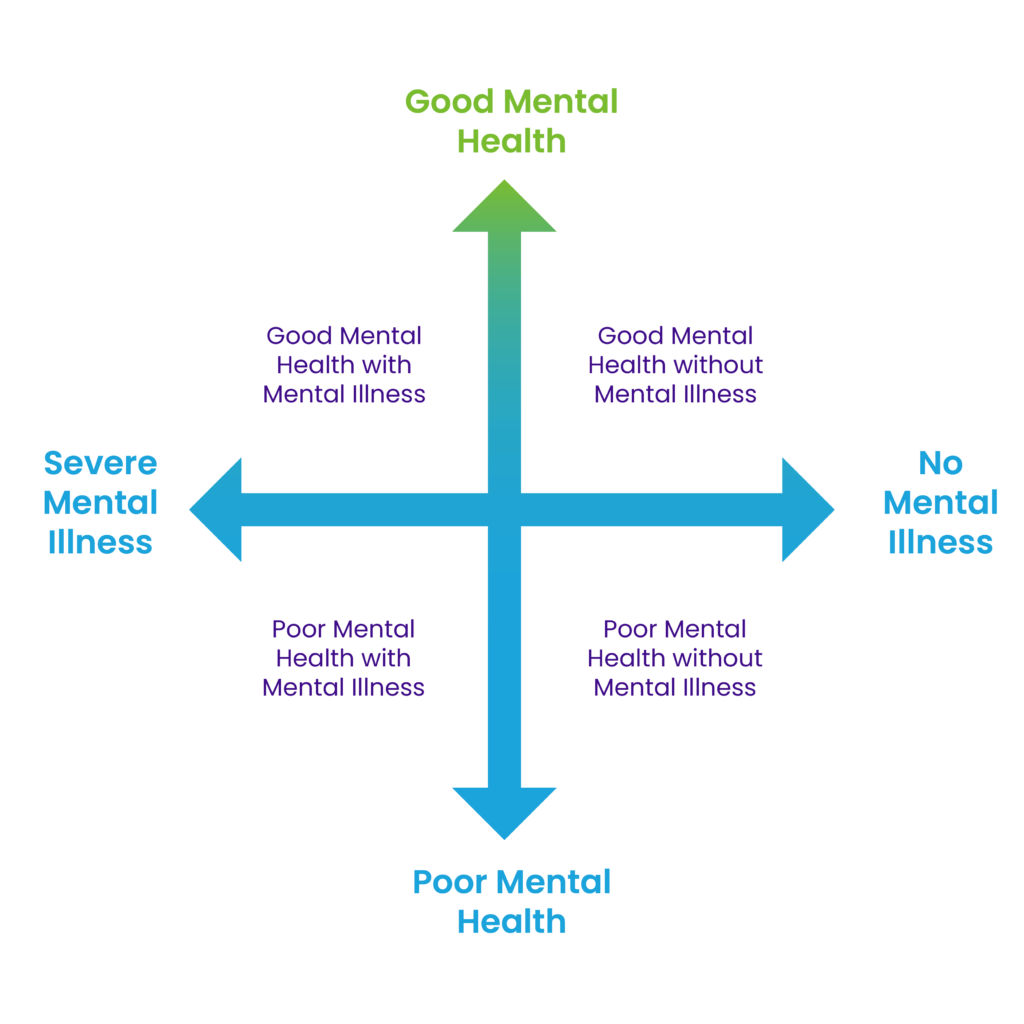 A Student-Centered Approach
The Huron-Perth Catholic District School Board's (HPCDSB) vision for Mental Health and Wellness fosters safety, security and a sense of belonging for all of our staff and students through a Christ-centered environment.
Additionally, we know that a student-centered approach is grounded on the well-being and conditions of the caring adults in our buildings who are committed to accompanying our students. The Huron-Perth Catholic District School Board (HPCDSB) Mental Health Action Plan 2021 has been designed to support educators in creating conditions in the classroom and the school that are conducive to student learning and well-being.
The foundation of student learning and well-being is the careful and intentional focus on teacher-student relationships, the development of learning spaces that are welcoming, safe and inclusive, and the utilization of social-emotional learning to enhance student capacity to cope with the stress of daily life and the pandemic. The Mental Health Action Plan outlines activities and resources to support this foundational work.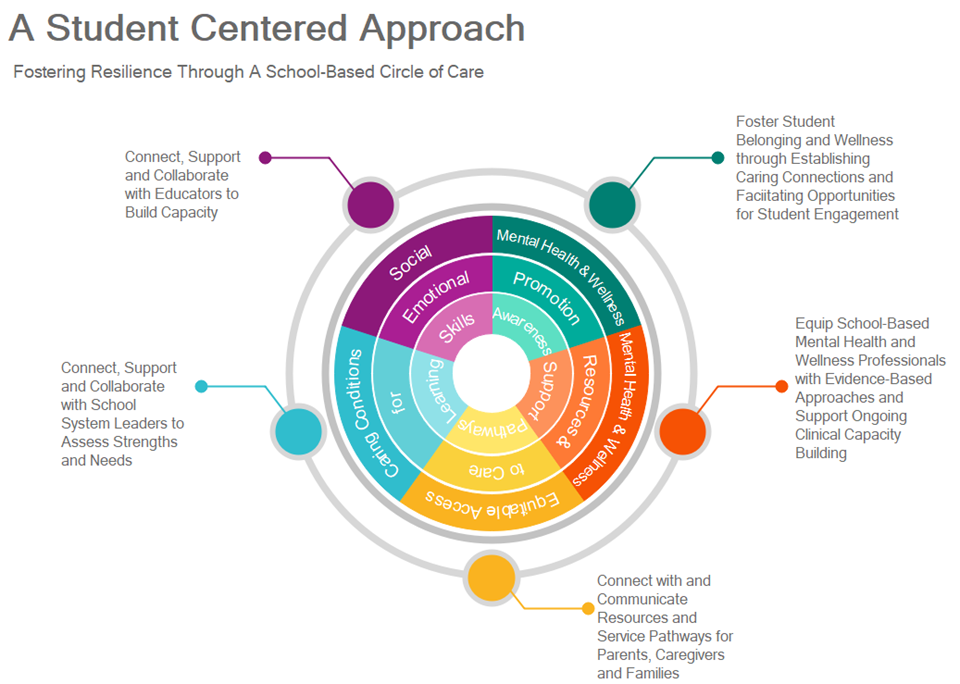 Aligned and Integrated Model (AIM)
The Aligned and Integrated Model (AIM) is a multi-tiered approach to mental health and wellness for our students and is key to the development and implementation of programs and services with the HPCDSB that enhances mental health and academic achievement.
Recognizing that approximately 20 percent of children and youth will struggle with a mental health problem, the HPCDSB Rise to Resilience: Mental Health Action Plan 2021-2022 outlines activities and resources at tier two (early identification and intervention) and at tier three (assessment and intervention for students with complex needs). Students can access school-based mental health support through our Board's Mental Health and Wellness Team which consists of regulated and non-regulated mental health professionals. School-based supports are also provided in partnership with community-based service providers.
Referral pathways are clearly outlined and system navigation support is available through our Mental Health and Wellness Team.
For further information about student mental health, as well as school mental health planning, please visit the School Mental Health Ontario website. 
HPCDSB Mental Health Action Priority Statement
To foster resilience as we persevere through COVID-19 to demonstrate a strengthened system-wide commitment to HPCDSB's vision for Mental Health and Wellness through initiatives that engage students, parents and staff in a Christ-centered environment supporting mentally healthy school communities through accompaniment. Please click this link for details regarding our HPCDSB Rise to Resilience: Mental Health Action Plan 2021-2022.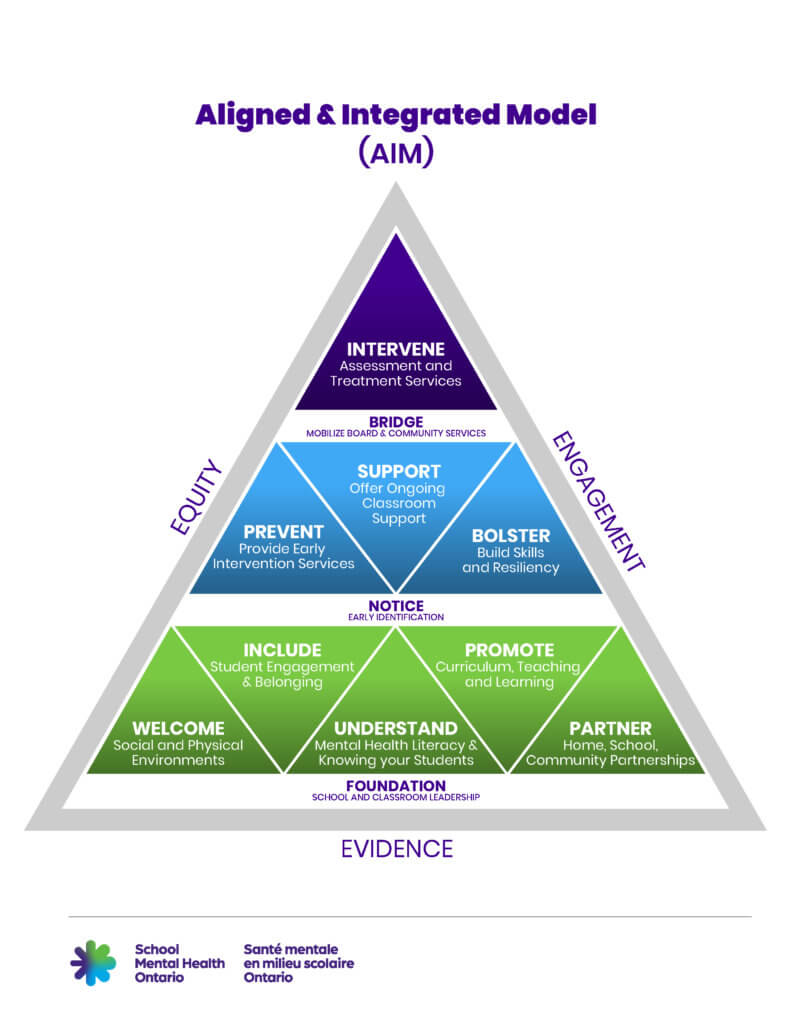 Resources for Parent

s
Where can I go for help?
How do I take care of my own mental health?
Noticing Concerns
 Remote Learning and Return to School
 Youth Substance Use
Resilient Children
Educational Resources for Parents
Resources for Students
Our Community Partners
Huron Perth Emergency Mental Health Care Contact
Please see our Resiliency and Mental Health document repository below.